Hydrangea Train
Enjoy the hydrangeas in full bloom along the railway line
What is the Hydrangea Train?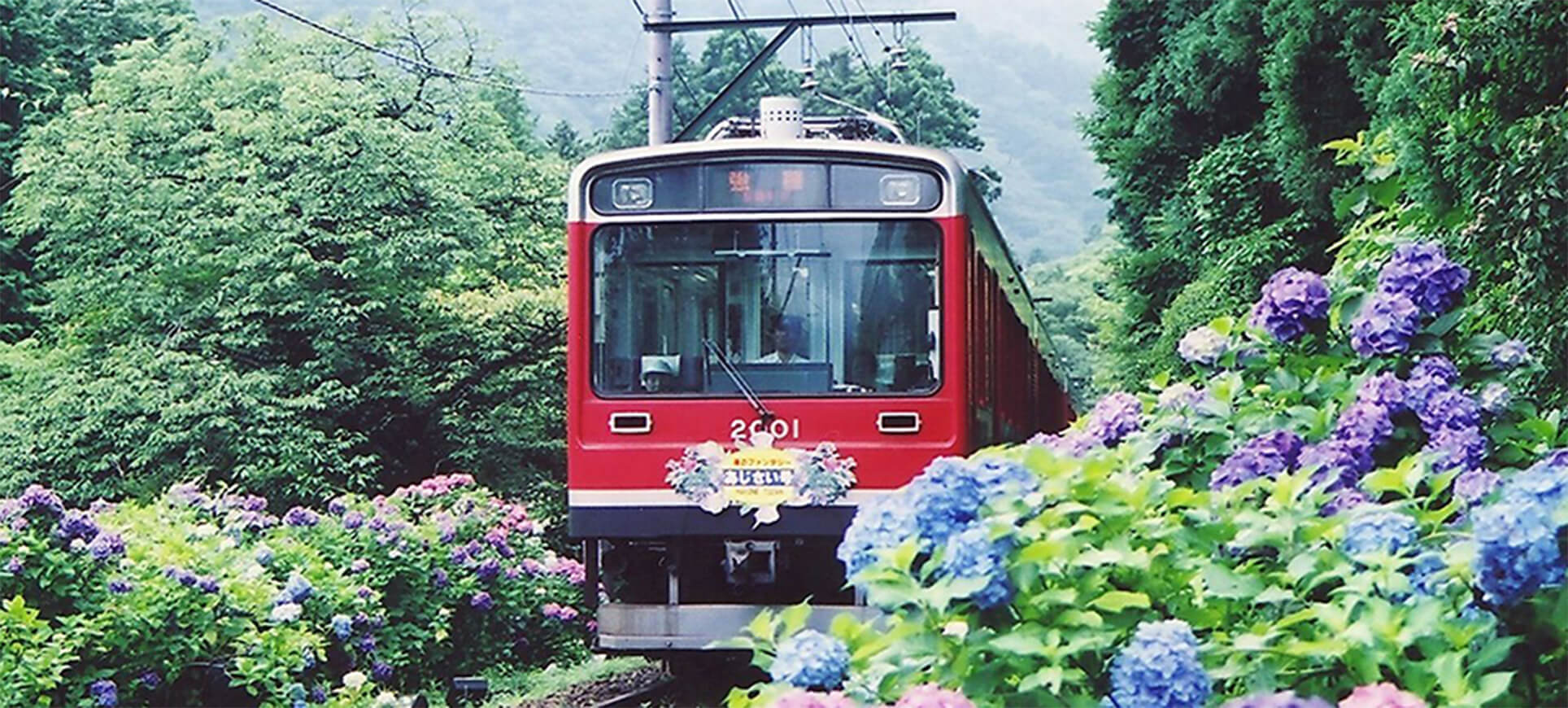 The hydrangeas along the Hakone Tozan Railway are in bloom from mid-June. During this time, "Hydrangea Train" is the nickname given to the Hakone Tozan Train. Although this train is best known for going up a mountain, it's also slowly gaining fame for being a spot where you can see hydrangeas until mid-July. Peacefully enjoy the beautiful hydrangeas that grow along the track from the train window.
*A reservation is only required for the Nighttime Hydrangea Train that has reserved seating.
The Best Time to See the Hydrangeas
Due to the high elevation, hydrangea season is a bit later than normal. You can enjoy these flowers until late July!
The best time to see the hydrangeas may change due to the weather/climate.
Hydrangea Train Schedule
The Hydrangea Train runs along the same track during both the day and night, though the differences are stark. Sit wherever you like on the train and enjoy a different side of the flowers from day to night.
Daytime Hydrangea Train
Start at Hakone-Yumoto Station to go up the mountain through Ohiradai, Miyanoshita and Gora, or start at Gora Station to take the train down. If you want to explore beyond Gora, then we recommend taking Hakone's other unique methods of transportation, such as the Cable Car and Ropeway, from which you can see a great view of Mount Fuji and Lake Ashi. The Cable Car, which has a spectacular view of Hakone's Myojogatake mountain range. is also an excellent option. You're sure to be pleased with the many beautiful views of Hakone!
Service Information
During the daytime, the Hakone Tozan Train comes four times an hour.
It takes about 40-minutes from Hakone-Yumoto Station to Gora Station.
*Please note that there is no reserved seating.
Nighttime Hydrangea Train
Experience a different side of the Hakone Tozan Train after 6:30 PM. Six spots along the track will be lit up so you can see the flowers illuminated with brilliant lights. The hydrangeas look as if they are floating in the darkness - a completely different sight from the afternoon. Enjoy a mystical side to the hydrangea's beauty from the train window.
Service Information
The Hakone Tozan Train comes two or three times an hour during evening service. It takes 40-minutes from Hakone-Yumoto Station to Gora Station and 25-minutes to Miyanoshita Station.
*Please note that there is no reserved seating.